Posted From: http://www.africanbites.com/kedjenou-chicken/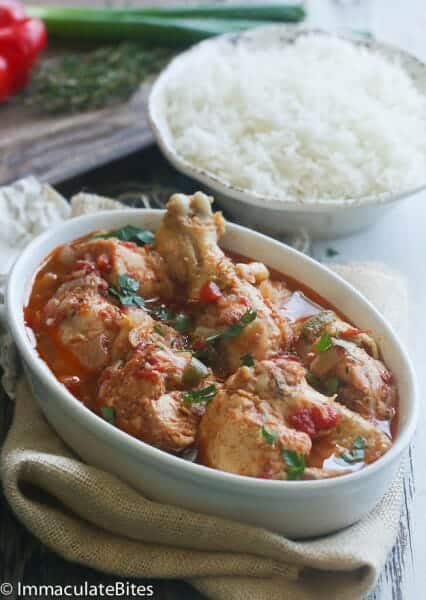 Kedjenou is a magnificent chicken dish that is astoundingly easy to make. It is chicken that is basted in its own juice in a "canary," or earthenware jar, on a wood fire.
This method ensures terrifically moist, succulent results. For most western kitchens, deep casserole with a tight-fitting lid can be used in place of the "canary" like a dutch oven
This  tasty chicken is a very popular dish in Ivory Coast. It is believed to have originated from Baoulé; an ethnic group in Ivory Coast. According to several sources the word kedjenou comes from the Baoulé language which means to move or shake. While braising the chicken the pot is frequently shaken, vigorously, so that the chicken or sauce does not stick to the bottom of the pot.
Any quick and easy recipe that tastes great is my friend, and if it tastes anything like this chicken, then it's a home run!. This recipe is so good without you laboring in the kitchen all day. Just put all the ingredients – garlic, ginger, onions, green onions, fresh thyme -in the pot, mix,  and place it in the oven. How easy is that? You could even watch your favorite show while the chicken is slowly braising in the oven.
Traditionally, this recipe calls for shaking the pot every 5 to 10 minutes during cooking. However, I usually shake kedjenou only once or twice during the cooking process and it does not stick to the pot. I added about  1/4 cup of chicken broth. To add some more sauce.
Serve warm with atieke a side dish which is comparable to garri – fermented food made from cassava root with a distinct sour taste. Or with rice like I did. It  could  also be eaten with any starch.
Enjoy
Kedjenou Chicken
Total time
1 hour 10 mins
Ingredients
1 whole chicken (4 to 5 pounds) skin on, cut into medium pieces
2 medium onions
2 green onion
1 fresh red or green peppers
4 tomatoes
1 tablespoon ginger paste
1 tablespoon garlic puree
1 fresh sprig thyme
1 bay leaf
1 teaspoon smoked paprika
½ Tablespoon chicken bouillon or more (optional)
1 whole habenero pepper(optional)
Salt and pepper to taste
Instructions
Trim chicken of excess fat and pat dry with a cloth or paper napkin and salt , place in the Dutch oven
You may season chicken with garlic , ginger , thyme, paprika, green onions , chicken bouillon and onions. At at least 2 hours or preferably overnight in the fridge for optimal flavor.
Slice tomatoes, onion, green onions and green pepper.
Combine all the ingredients in a Dutch oven or any oven safe pot and stir until everything is fully combine
Cover it with its lid.
Place in the often and shake the pot once or twice during cooking without opening the pot.
Bake for about 1 hour until chicken is tender depending on which chicken you use and how you like your chicken.
Serve with atieke or white rice
Notes
For a healthy version, skin the chicken or just use chicken breast!
3.4.3177
The post Kedjenou Chicken appeared first on Immaculate Bites.
DETAIL